How to increase the life of T-Bolts, Clamping Studs, Nuts & Washers?
Lubrication aids Clamping by reducing the frictional co-efficient and thereby enhancing life of the threads.
Use recommended sizes as per DIN / IS standards for the particular T-Slot size.
DO NOT tamper products on the bench grinder!
Do not use torque more than the recommended values to tighten the nuts.
Over tightening can cause permanent damage to the soft T-Slotted Bed.
Studs are overstressed, twisted and broken when higher torque is applied by using additional pipe-leverage to the spanner. Avoid usage of pipe-leverage.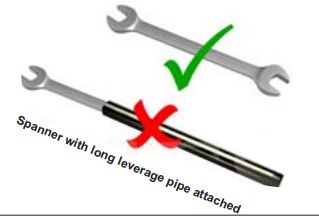 Insert Stud fully into the T-Nut to avoid cracking of T-Nuts.